The answer will surprise you.

Yes I know this is Wednesday and Monday Night Football was two nights ago, but with the grandmanator in the hospital, working on a church slideshow and having to fend for my own food, I'm a little behind. Which is bad because I have some great jokes about Jim Tressle, the Supreme Court and hurricanes caused by PlayStation 3!

But back to the subject at hand.

I got the idea for building my own Digital Video Recorder from an article on Cnet some time ago, but that article has gone AWOL so I found this article via a Google search.

Free TiVo: Build a Better DVR out of an Old PC

I have several reasons for doing this.
TiVo requires a phone line to download channel listings and program titles. I do not have this in my condo
Microsoft's ReplayTV will run over a home network, but still costs $12.95 a month.
For my birthday I got Sirius Satellite Radio which broadcasts every NFL Game (of course I'm only interested in the Steelers) unfortunately with a 30 second delay due to the amount of time it takes for a signal to bounce back to Earth. Therefore the audio does not sync with the tv.
I suppose you are asking, why not just get a DVR from your cable provider? Well, where's the fun in that?
So now my living room looks like this!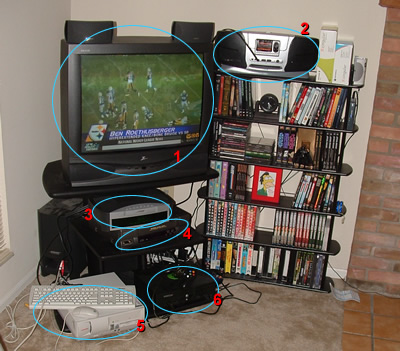 TV
Sirius Satellite Radio
Bose Stereo
VCR (no longer used)
Compaq DeskPro EN – DVR
X-Box (useless without enough TV inputs)
Officially I'm still in the prof of concept stages, but the DVR works. Here's the setup. It's a small PC, a few years old that I got on ebay. It's pretty much as-is. I loaded Windows 2000 on there and then had to find some video, network and audio drivers on Compaq's website.

Next the video card. I chose the Hauppauge PVR-350. It's all hardware encoding feature offered the best quality video, plus it includes a remote control so it works just like a made-for-the-TV device. Plus the built-in S-Video and audio out port makes it a great all-in-one solution for the PC-PVR. It also includes all the software needed for recording, playback and even DVD burning.

Eventually I'll add a much bigger hard drive, and a DVD burner so I can save things I record for future viewing.

So, here's the setup for football, Fire up the Sirius radio to channel 124, outputting through the Bose, turn on the TV, set the video input to S-Video, wait for kickoff, hit Pause on the DVR remote, wait for Bill Hillgrove, voice of the Steelers, so say the word "Kickoff", press play and there you have it! Audio, and video in perfect harmony on Monday night football!
Is it perfect? Well it's good enough. There's no on-screen display for playing recorded video, and changing the channel through the DVR is like playing russian rulette but the concept is there. Since I keep a laptop in the living room I will probably do a PC Anwywher type solution to do some of the less intuitive functions instead of using the remote.
It works and it was kind fun to get workging!
Used PC: $88 on ebay
TV card: $130 on Amazon.com
Sirius Satellite radio:
$120 yearly feeNot having to listen to John Madden be repetitively obvious for
three hours: PRICELESS!